Roper Whitney sheet metal shears
Roper Whitney No.152 and G52 Shears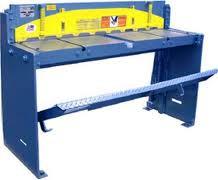 Roper Whintey Pexto Foot Squaring Shears are the industry's most accurate. They are easy to operate and offer precise shearing, long life and dependability. Shatter-proof, transparent finger guards are amoung their safety features. All are provided with precise gauging and holddowns for cutting / shearing accuracy.
maximum rated capacity : 16 gauge mild steel
built to machine tool standards
triple - action shearing
Roper Whitney Model No. 152 Shears offer triple - action shearing which includes relief on both edges of both the fixed and moving blades. It eliminates blade- to- blade friction, provides "bite" to eliminate sheet movement under shearing stress and produces double penetration in the cutting action. This contributes to easier operation. The Roper Whitney Model No. 152 Shear will handle a 52" sheet .
The Roper Whitney Model No. G52 Shear incorporates a gap-in-housing feature which permits slitting a sheet of any length (by successive cuts) up to 18 inches wide. It's gauging package is similar to the no. 152 shears, but also has an adjustable side slitting gauge. This shear may also be used for standard shearing of sheets up to 52 inches long. It includes a lever actuated holdout, finger guard and treadle stops.
Roper Whitney PH 452 and PH 52 Power Squaring Shears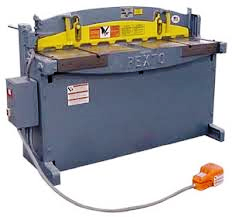 Roper Whitney Power Squaring Shears provide many choices of features designed for shearing efficiency and shearing accuracy to equal the demand of present day productivity. Both of the hydraulically operated Roper Whitney (PH452 and PH52) Shearing Models have built-in ruggedness that will make them last for years of normal use. Within the many sheet metal shear models is the capability of shearing up to 12 gauge mild steel and up to 6 foot sheet lengths. Some Roper Whitney shears are designed for use where space is a consideration. All of the Roper Whitney Hydraulic Powered Squaring Shears include precise gauging and appropriate safety guarding.
Specifications Of The Roper Whitney Models PH452 And PH52 Power Shears:
Max. Rated Capacity - 16 gauge (mild steel)
52" Shear Lengths
Compact, fully-integrated, hydraulically powered shearing units. These shears are ideal for many light gauge shearing applications. Equipped with big shear operating controls. Fast, smooth, oil - cushioned action. Both moving and fixed blades are shearing blades of Hi-Speed steel. One piece cast shear bed is recessed for easy sheet handling. Standard equipment includes back, front, and side gauges, bevel gauges, front arms and transportation finger guard. Bed is machined for optional side extension squaring gauge.
Other Features Of The Roper Whitney Power Squaring Shears Include:
Fully enclosed control panel, with magnetic starter, selector switch and relays
Single or continuous stroke operation.( Continuous on PH52 )
Full Length 45 Stokes per Minute
3/4 Length 60 Stokes per Minute
1/2 Length 75 Stokes per Minute
1/4 Length 100 Stokes per Minute
Heavy duty foot switch. If released anywhere in the stroke, crosshead returns to "UP" position.
Pressure relief valve to prevent overloading.
Electric solenoid hydraulic valving for instantaneous response.
Dial stroke control - accessible adjustment with stroke length indicator.
Hydraulic power uniformly applied through double-acting cylinders.
Roper Whitney Pexto PX1214 Shears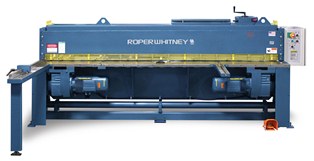 Roper Whitney PX Series Mechanical Shears utilize a low maintenance design, coupled with an array of standard features for an attractive combination of high value and solid performance.
The PX1214 incorporates a dual motor design. The dual motor design, of the PX Series, produces accurate distortion free shearing while minimizing machine twist. The system is capable of 45 strokes per minute. The PX1214 is ideal for high volume applications.
The PX Series also includes the unique 2R front operated back gauge system. This allows the operator to move the backstop from 0 to 30 inches in approximately 2 seconds with only two rotations of the handle. A digital readout is standard for this system. The PX1214 has an optional "Go-To" 30-inch powered back gauge system available. The ball screw-driven back gauge provides quick, accurate cuts. The operator simply inputs a dimension, and then presses enter, and the gauge automatically positions to that setting.

The PX1214F Shear is designed in a "Pro Package" configuration.
The Pro Package Includes:
Five Foot Squaring Arm

Two Front Support Arms

"F" Front Drop Air Operated Sheet Support System

the 2R Front Operated Manual Back gauge with Digital Readout

Standard Features Of The Roper Whitney Pexto PX1214 Shear:
four-edge, high carbon
high chrome blades
independent, self-leveling hold down feet with neoprene inserts
single, continuous and jog stroke cycles
motor reverse switch
precision-machined T-Slotted table
The table also has a hand well with dual inch/metric inlaid bed scales
The PX Series incorporates non-metallic ram gibs and low maintenance garlock bearings.
Specifications Of The Roper Whitney Pexto PX1214 Shear:
Max. Capacity - 14 Ga. Mild Steel (Rated 80,000 Tensile/44,00 Yield), 16 Ga. Mild Steel (Rated 90,000 Tensile/55,000 Yield)

Max. Cutting Length - 145 In.
Back Gauge Range - 30 In.
Strokes Per Min. - 45
Number of Hold Downs - 16
Motor - 230/460 V, 3 PH, 60 Hz Dual 7.5 HP
Overall Dimensions (Less Gauges) - LxWxH 170 X 39 x 60 in
Shipping Weight - 7,600 LBS
Optional Equipment Available:
five or ten-Foot squaring arm
t-slotted front support arms
light beam
protractor attachments
"Go-To" 30-inch powered back gauge system
Roper Whitney 10M14 Mechanical Shear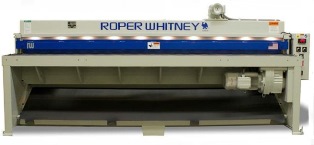 Roper Whitney's 10M14 Mechanical Shear is the latest addition to the Roper Whitney line of shears. Manufactured in the United States, the 10M14 Mechanical Sheet Metal Shear is of rugged construction, weighs in at 5,500 pounds, and is powered by a 5 horsepower motor. The 10M14 Mechanical Shear produces up to 35 strokes per minute.

Standard Features Of The Roper Whitney 10M14 Mechanical Shear:
Made in the U.S.A.
Rugged Welded Construction
Single or Continuous Cycle
Accurate Table Side-Squaring Gauges
Recessed Inch/Metric Bed Scales
Combination Material Hold-Down/Finger Guard with Non-marring Urethane and Positive Spring Actuation
High Carbon/High Chrome Long Life Tool Steel Blades
Upper and Lower Blades Interchangeable
Non-Metallic Gibs
Maintenance Free Self Lubricating Bearings
Fully Guarded Safety Foot Switch
Low Power Consumption
Smooth Quiet Reliable Operation
Additional Options For The Roper 10M14 Mechanical Shear:
Front arms
Side Squaring Arms in 4', 8', or 12' Lengths with Fixed Stop and Inlaid Scale
Squaring Arm Flip Stop

Backgauge Options For The Roper Whitney 10M14 Mechanical Shear Are:
Rear Operated Manual with Precision Scale Front Operated Manual with Chain Drive and Position Counter DRO-Motor Driven with Digital Readout NC-Motor Driven with encoder Feedback, and Digital Readout with Five Preset Positions
10M14 Mechanical Sheet Metal Shear Specifications:
Capacity - 14 Ga. mild steel
Working Length - 121.25 inches
Back Gauge Travel - 24 inches
Approximate Weight - 5500 lbs.
Power - 5 hp
Standard Voltage - 230 vac 3 hp 60 Hz
Strokes Per Minute - 35