Roper Whitney #8 and #7 Punches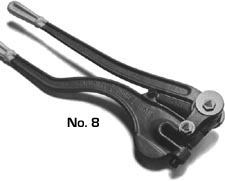 Medium Duty Portable Punches are for medium punching power (up to 5 tons). They are highly portable and of a size that will fit any tool chest or truck locker. The leverage design of these tools assures easy linear operation.
Maximum Rated Capacities:*
No. 7A - 2.5 tons
No. 8 - 5 tons<
Two Hand Linear Operation
These punches are similar except for punching capacity. Unlike other similar tools, these punches will punch and strip inside a 90° arc movement of the lever. And, the upper handle will not disengage when moved to either extreme.
* Refer to tonnage chart to determine if the rated capacity of this tool will accommodate the type and thickness of metal and the size and shape hole that you will be punching. Do not, under any condition, exceed the rated capacity of this tool.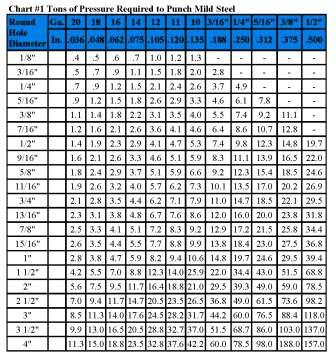 Options include a bench mounting base, with a 3" - 3" 3/4" x 5" tapped base table; and a factory reversal of the upper handle to provide front pull-down operation when the tool's intended use is as a bench mounted unit.
* Includes one 7/32" round punch and die.
± Includes one 9/32" round punch and die.
No substitutions.