Used Machinery
Used Air Compressors

Used Autobrakes / Sheet Metal Folders

Used Bar Folders
Used Sheet Metal Brakes

Used Cheek Benders

Used Cleat Benders / Cleat Folders

Used Clincher / Fasteners

Used Coil Lines

Used Crimping / Beading / Rotary Machine

Used Drill Press
Used Duct Beading Machine

Used Duct Insulation Liner Cutters

Used Flangers / Flanging Machines

Used Gorelockers / Elbow Machines

Used Grinders

Used HVAC Accessories
Used HVAC Duct Insulation Pin Spotters

Used Ironworkers

Used Laser Cutting Machines
Used Mechanical Piping Equipment

Used Notching Machines

Used Plasma Cutting Machines

Used Press Brakes

Used Punching Machines
Used Sheet Metal Rolls

Used Roll Formers

Used Saws

Used Sheet Metal Shears

Used Sheet Metal Slitters

Used Spiral Machines

Used Welders
HVAC Coilines by Engel Industries | Coil Lines | coil processing

Engel VALUE PLUS Coiline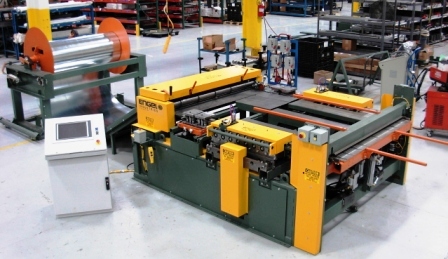 Engel Industries Value PLUS Coiline systems - the workhorse of the industry - a fully hydraulic unitized compact Coiline has earned the reputation of providing one of the most accurate and reliable machines available.
Standard Features on this Engel VALUE PLUS Coiline :
drag off or powered cradle systmes available with 15,000 lb drive system
manually adjustable underfed infeed guide for positive feed up to the straightening rolls.
engel 2008 touch screen control
coiline download capable.
10 HP hydraulic drive unit
line speed : 55 FPM
jog speed : 25 FPM
hydraulic 3 roll straightener with 3-1/2" diameter solid steel rolls
4-1/4" beading rolls
16 gauge capacity shear
18 gauge capacity beading rings
18 gauge capacity low profile notchers
16 gauge capacity "L" or full wrap brake
fully adjustablle industry proven cleat former to produce 48" to 60" width's
male button punch caa be activated or deactivated from the control
fully expandable downstream to produce pittsburgh, snaplock and TDF
space saving in-line coiline system
Engel Full Coiline
Engel Industries provides the fastest Automated Duct Systems Available in operation worldwide-
from coil to duct "L" sections averaging every 15 seconds and a full wrap duct every 30 seconds.
The highest quality, most productive & cost efficient coil line (duct manufacturing) machines today.
Individual components have provided the features that save you time and money.
From underfed cradles through the hydraulic Unitized Compact Coiline®, Pittsburgh/Snap Lock, Cleat Forming TDF® (Transverse Duct Flange), Lin-o-matic with extruded glue system and either an "L" or full-wrap brake, Engel's System has the features you need.
Engel's coil line system is controlled by the P.C. based control with download capability.
Engel's "building block" concept allows you to purchase a coiline starter system, a complete coiline system or individual components to complete any existing partial coil line system.

Basic components for Engel's Full 5' / or 6' Coiline:
Rod Grid Cradles including coil drive assembly
powered underfed infeed guide assembly
compact coiline (Front end)
transfer system for pittsburgh lock and snap lock
90° transfer and feed table
dual head cleat edge forming machine
dual head tDF© roll form unit
lin-O-Matic insulation unit
full wrapper automatic brake system
Engel Compact II Coiline

Engel's Coiline II blanking, notching and beading system can be either a stand alone system or the start of a complete automatic fabricating system with TDF®. Engels straightener, with four large diameter rolls, will remove coil set from either under or overfed coils. The coil line system is fully hydraulic including a heavy duty dual cylinder shear with bronze gibs. The low profile hydraulic notchers will notch for S & Drive, TDF®, Pittsburgh or Snap Lock. (You can add the "flip of the switch" option to switch from TDF® to S & Drive, or Pittsburgh.) Ring type beading is in accordance with SMACNA standards. The self-contained hydraulic power unit, with its reservoir tank, is mounted safely within the solid side plates.
A PC based controller, with proprietary software, controls coiline machine functions and can accept down loading from an IBM compatible in-house computer. The control is expandable to handle a complete automatic duct fabricating system. The Engel Compact Coil line II includes 4 drop-in cradles with a maximum capacity of 15,000 lbs. per station. The coils are driven by Engel's M-CDA-15-UF coil drive assembly with a direct coupled drive. You can order any of Engel's optional cradle systems. This system will process 5' (1524 MM) galvanized steel into blanks for your plasma cutting machine or notched blanks for "L" Section or full wrap ductwork. Cut-to-length accuracy is +/- .020" (+/- 0.5MM).
FEATURES of the Engel Compact Coiline II :
Capacities: 30 to 14 gauge, and up to 72" depending on model.
Straightening Unit: Heavy duty straightening rolls are 4-1/4 inch diameter
In Line Slitting: Available upon request.
Low Profile Notching: Dies are adjustable from S & Drive to TDF® with the flip of a switch. Notcher dies are mounted in precision Die sets.