Boschert CombiLaser Series
The ideal combination: Punching and Fiber Laser cutting
Because the trend in terms of material savings, resource conservation, lightweight and functional integration rather else is going to thin sheet structures, Boschert completes the portfolio for the equipment of the Combi machines now on to an advanced fiber laser to Boschert Combicut laser.
In close cooperation with our partner Kjellberg Finsterwalde, this machine was designed with the fiber laser system XFocus 1000. The process integration with this fiber laser refers to the CombiLaser sizes 1000 x 2000, 1250 x 2500 and 1500 x 3000 mm, so that sheets of all sizes in various grades optimally and above all in a single setup can be completely processed.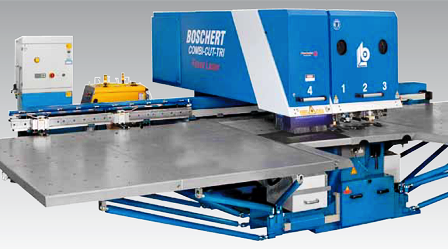 Boschert CombiLaser Series
Flexibility at its finest.
To produce complex inner and outer contours quickly and in high quality in thin sheets, is possible only with laser cutting. Forming, tabs, beads, trims or threads are strength of the punching machine. The Boschert CombiLaser combines the advantages of all methods in one machine.
Further advantage of the laser CombiLaser Boschert:
All existing Boschert punching machine models can be connected to the fiber laser system. Therefore Boschert can focus entirely on the customer requirements.
Programmable disposal of small parts:
The cutted parts from the fiber laser can be quickly ejected from the work surface with 2 different parts chute. The part chute tables are arranged direct in front of the fiber laser.
Size: 150×150 mm and 700×700 mm
Security
Boschert has developed a security concept for the fiber laser in cooperation with the BG professional association. Optionally the machine can be also equipped with a sight protection device.