Used Machinery
Used Air Compressors

Used Autobrakes / Sheet Metal Folders

Used Bar Folders
Used Sheet Metal Brakes

Used Cheek Benders

Used Cleat Benders / Cleat Folders

Used Clincher / Fasteners

Used Coil Lines

Used Corner Inserter Machines

Used Crimping / Beading / Rotary Machine

Used Drill Press
Used Duct Beading Machine

Used Duct Insulation Liner Cutters

Used Flangers / Flanging Machines

Used Gorelockers / Elbow Machines

Used Grinders

Used HVAC Accessories
Used HVAC Duct Insulation Pin Spotters

Used Ironworkers

Used Laser Cutting Machines
Used Mechanical Piping Equipment

Used Notching Machines
Used Pittsburgh Seamers

Used Plasma Cutting Machines

Used Press Brakes

Used Punching Machines
Used Sheet Metal Rolls

Used Roll Formers

Used Saws

Used Sheet Metal Shears

Used Sheet Metal Slitters

Used Spiral Machines

Used Welders
akyapak Powered Rolls model asm - s

Akyapak Powered Rolls
Since 1962, Akyapak Machinery has been producing 3/4 Rolls hydraulic/mechanic Plate Bending Machines, hydraulic/mechanic Profile Bending Machines, Pipe/Tube Bending Machines with mandrel and hydraulic/mechanic Bordering Machines. Now Akyapak has a new builded factory with 10.000 sqm closed area in order to improve its well known quality. Akyapak invests in technology for future with 150 well experienced, specialist staff and produce about 2000 machines yearly.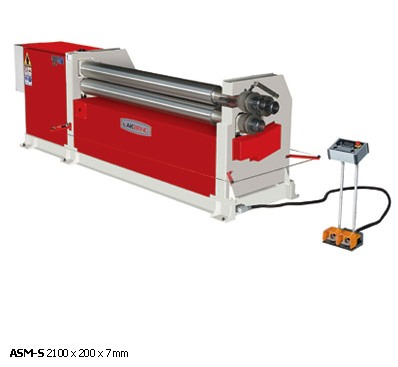 Akyapak powered Rolls Model ASM-S
AKYAPAK Powered Rolls ASM-S model is made of complete steel (St-52) construction, strong and powerfull. The top and lower rolls are driven by electric motor + gearbox and gear system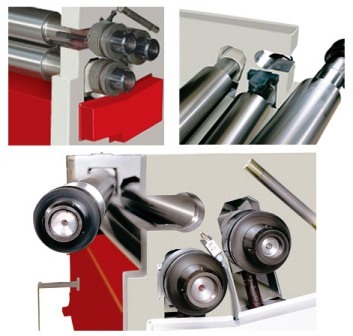 Standart Equipment
Induction hardened rolls.
Backroll with motor.
Cone bending device.
Body steel (St-52) construction.
Rolls are produced by special steel.
Machine designed in asymetrical working principle.
Central rollers powered with electric motor+gearbox and gear system.
Upper roll is opanable by side.
Seperate control panel.
Digital display for backroll
Lower roll with motor
Extended rolls.
Profile rolls.
Automatic cone bending adjustment via buttom on the control panel.