Used Machinery
Used Air Compressors

Used Autobrakes / Sheet Metal Folders

Used Bar Folders
Used Sheet Metal Brakes

Used Cheek Benders

Used Cleat Benders / Cleat Folders

Used Clincher / Fasteners

Used Coil Lines

Used Crimping / Beading / Rotary Machine

Used Drill Press
Used Duct Beading Machine

Used Duct Insulation Liner Cutters

Used Flangers / Flanging Machines

Used Gorelockers / Elbow Machines

Used Grinders

Used HVAC Accessories
Used HVAC Duct Insulation Pin Spotters

Used Ironworkers

Used Laser Cutting Machines
Used Mechanical Piping Equipment

Used Notching Machines

Used Plasma Cutting Machines

Used Press Brakes

Used Punching Machines
Used Sheet Metal Rolls

Used Roll Formers

Used Saws

Used Sheet Metal Shears

Used Sheet Metal Slitters

Used Spiral Machines

Used Welders
Norlok | Clinching/Fastening Systems | Norlok Surelok Fitting Machine

Norlok Fitting Machine SURELOK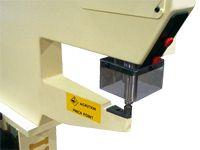 The "Fitting type" SURELOK features a one-piece 11" throat, steel "C" frame bolted to a solid steel lower arm. This clinching machine is specifically designed to fasten two ply of material together, as used in the sheet metal fitting manufacturing industry.

Features of the Norlok Surelok Fitting Machine:
Rigid steel frame
Close tooling access
Fast cycle times
"Intelligent" safety stroke
Direct acting power stroke
Simple tool adjustments -Adjustable stroke
Completely upgradeable
Small footprint
Air powered
Affordable prices
Options of the Norlok Fitting Machine Surelok:
Production punch assembly
Modular tooling assembly
Automatic return
Advanced power Unit
Extended warranty
High speed control
Laser pointer
Pipe Diameter 4"Ø Reach into pipe 6"
Pipe Diameter 5"Ø Reach into pipe 11"
Standard Features for the Norlok Surelok Clinching / Fastening Machine:

Throat 11" -Specially designed for even closer access than the SurelokII
Production punch assembly ---Our best tooling with longest punch and die life, best part access, best material range, and easily modified.
Close reach lower arm ---Clinch in tight areas – also great for pipes
2 piece die holder and insert ---Fast to change and easy to clean
Adjustable stroke ---Adjust open height to minimize pinch point
"Intelligent" Safety stroke ---Reduces pinch point to less than 1/4" even with 1" stroke
Lexan guard ---Eye protection without restricting access
Air surge tank ---Minimizes the effects of poor air supply
Air filter / regulator ---Nothing to add - just plug your air line into the tank
Frame mounted tool kit ---All tools required for adjustments are included
Return the the Norlok Main Page

Return to the Home Page