Roper Whitney 10M14 Mechanical Shear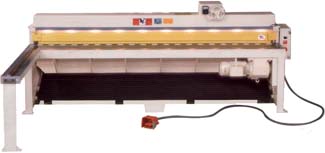 Roper Whitney's 10M14 Mechanical shear is the latest addition to the Roper Whitney line of shears. Manufactured in the United States, the 10M14 Mechanical sheet metal shear is of rugged construction, weighs in at 5,500 pounds, and is powered by a 5 horsepower motor. The 10M14 mechanical shear produces up to 35 strokes per minute.
Standard Features of the Roper Whitney 10M14 Mechanical Shear:
Made in the U.S.A.
Rugged Welded Construction
Single or Continuous Cycle
Accurate Table Side-Squaring Gauges
Recessed Inch/Metric Bed Scales
Combination Material Hold-Down/Finger Guard with Non-marring Urethane and Positive Spring Actuation
High Carbon/High Chrome Long Life Tool Steel Blades
Upper and Lower Blades Interchangeable
Non-Metallic Gibs
Maintenance Free Self Lubricating Bearings
Fully Guarded Safety Foot Switch
Low Power Consumption
Smooth Quiet Reliable Operation
Additional Options for the Roper 10M14 Mechanical Shear:
Front arms
Side Squaring Arms in 4', 8', or 12' Lengths with Fixed Stop and Inlaid Scale
Squaring Arm Flip Stop

Backgauge Options For the R.W. 10M14 Mechanical Shear are : Rear Operated Manual with Precision Scale Front Operated Manual with Chain Drive and Position Counter DRO-Motor Driven with Digital Readout NC-Motor Driven with encoder Feedback, and Digital Readout with Five Preset Positions
10M14 Mechanical sheet metal shear Specifications:
Capacity - 14 Ga.mild steel
Working Length - 121.25 inches
Back Gauge Travel - 24 inches
Approximate Weight - 5500 lbs.
Power - 5 hp
Standard Voltage - 230 vac 3 hp 60 Hz
Strokes Per Minute - 35

Roper Whitney Pexto PX1214 Shears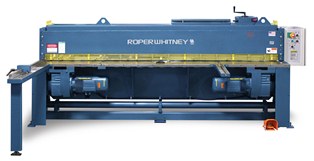 Roper Whitney PX Series Mechanical Shears utilize a low maintenance design, coupled with an array of standard features for an attractive combination of high value and solid performance.
The PX1214 incorporates a dual motor design. The dual motor design, of the PX Series, produces accurate distortion free shearing while minimizing machine twist. The system is capable of 45 strokes per minute. The PX1214 is ideal for high volume applications.
The PX Series also includes the unique 2R front operated back gauge system. This allows the operator to move the backstop from 0 to 30 inches in approximately 2 seconds with only two rotations of the handle. A digital readout is standard for this system. The PX1214 has an optional "Go-To" 30-inch powered back gauge system available. The ball screw-driven back gauge provides quick, accurate cuts. The operator simply inputs a dimension, and then presses enter, and the gauge automatically positions to that setting.

The PX1214F Shear is designed in a "Pro Package" configuration.
The Pro Package Includes: