Iowa Precision

Iowa Precision Industries, the leader in custom designed and manufactured automated coil processing systems, has the experience and proven know-how to develop systems meeting the specific goals of customers, worldwide.
Listed Below are some of the Machines available through Iowa Precison :
Iowa Precision Pro-Ductomatic®:
Rectangular Duct Beading, Notching & Shearing Lines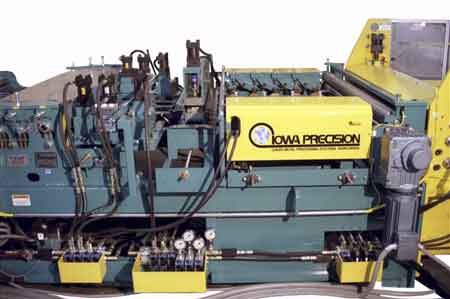 Pro-Ductomatic® (Starter Line)
The Pro-Ductomatic® is the basic machine needed for a duct shop, whether used as a stand-alone machine to produce duct blanks or as the heart of a Fabriduct® line.
The Iowa Precision Pro-Ductomatic® has the capacity to remove coil set, bead, and notch for two-piece or wrap duct, and cut off in a feed-to-stop shearing process. There is no minimum cut length or minimum on notch spacing.
PC-based controls ensure consistent quality of leg lengths and feeds.
General Specifications:
Coil width capability: 48" , 60", and 72" (1200mm), (1500mm), and (1800mm)
Galvanized or mild steel to 16-gauge
Blank length accuracy + 0.020"
Iowa Precision Pro-Fabriduct®:
Automated Rectangular Duct Forming & Fabricating Lines
Produces commercial duct and residential duct

Modular design with 11 integrated flexible workstations

"U" or "Z" configurations to optimize floor space

Notches , vees and corners

Forms pittsburgh, snap-lock, TDC, slip & drive seams and joints

Automated application of glue and insulation

Automated production control with integrated PC

Operator programmable. The controller will store up to 100 programs for easy recall

Modem included for remote factory support

Processes flat sheets, 4-piece duct, "L" duct sections, "U" duct sections and wrap around duct sections
Iowa Precision Cornermatic®:
Corner Inserting and Crimping Machines
Model CM-C/F-DH automatically inserts corners into both ends at once and crimps them into place. The optional adjustable model accepts 4- to 6-foot sections.
Iowa Precision Whisper-Loc®:
Duct Seam Closing Machines
Models FAH-3456 & FAH-1872 are available in the horizontal or vertical and close Pittsburgh seams in 3- to 6-foot duct sections.
Iowa Precision Ajust-amatic®:
Adjustable Elbow Machine
Model EMHP-345 automatically produces 3", 4" and 5" (76,2-101,6-127 mm) elbows from .013" to .018" (0.33mm to 0,46mm) gauge steel.
Model EMHP-678 produces 6", 7" and 8" (152,4 - 177,8 - 2-3,2mm) elbows from .0125" to .020" (0,31mm to 0,50mm) gauge steel.
Model EMHP-BM9-16 produces 9" to 16" elbows, and can also be programmed to produce 30 and 60 degree elbows in the same diameters.
Iowa Precision Tube-amatic®:
Tube Blanking and Rolling Line for Elbows
Information coming soon
Iowa Precision Collar-Matic® and Colatch®:
Collar/Boot Attaching Machines
Collar-Matic®: Iowa Precision's Collar-Matic® Line takes the hand work out of collar production for collar/boot assemblies.
The line produces 5,6,7 or 8-in. collars with easy tooling changeovers for each diameter.
The system uses convenient 2 1/8 in. drive cleat coil stock, .013 to .015-in. thick, to form hemmed collars.
An integral parent metal locking joint eliminates the need for collar rivets or staples.
The line's rollformer hems the collar's exposed edge while maintaining the required inside diameter.
Collar-Matic® automatically produces and places the collar into the beading die, ready for collar/boot assembly.
COLATCH® Model B: This machine performs the following with foot pedal control:
Expands the boot or take-off
Grooves the collar and boot or take-off
Stabilizes the collar to boot or take-off
Models "B", "C", and "D" produce 4" through 20" diameters
Iowa Precision Plasma Table Coil Feeders:
The Plasma Coil Feed machine feeds coil stock to Plasma Cutting Machines. It incorporates drop-in style uncoilers, straightening rolls to remove coil set, and pinch rolls to feed the 16-gauge (1.5mm) maximum thick material