Flangers | sheet metal flanging machines
Lockformer Auto - Guide Flanger 16-18
This Lockformer power flanger has the "auto-guide" feature, which automatically controls the forming of a right-angle flange. This Lockformer auto - guide flanger model 16-18 will contour and follow any edge, straight or curved. Using the convenient table slot, the operator merely turns up a starting edge, starts the material through the rolls and lets go. A calibrated dial sets the auto-guide for work with radii as small as 3-1/4". Two flange heights are available for this flanging machine - please specify 3/8" or 1/4".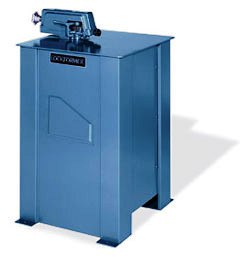 Specifications for the Lockformer Auto - Guide Flanger :
16 gauge maximum , Working range 16-24
2 flange heights available, 3/8" or 1/4"
18 feet per minute
Contact us about this Lockformer Flanging Machine

Eagle Morlin Model 1300 Handy Flanger
This Eagle Morlin Flanging machine is precision crafted for effortless operation. Super heavy duty construction to last for years. Simply clamp your Eagle Morlin Handy Flanger to any work surface and it's ready to use.
Specifications of Eagle Morlins handy flanger model 1300:

Capacity: 20 gauge or lighter
Makes a perfect 7/32 flange, even on radius fittings.
Weight : Approximately 27 lbs.
Flagler 16 Gauge Power Flanger
This Flagler Power flanging machine is ideal for larger fitting work. This Flagler Power flanging machine is built with a heavy duty cast iron gear housing with oil bath.
Specifications for this Flagler 16 Gauge Power Flanger :
Capacity: 16-20 Ga.
Height of Flange: 3/8"
Speed: Approx. 18 feet per minute
Motor: 3/4 HP 115/1/60/1800 RPM .
Drive: Vee Belt.
Base: Arc Welded Steel. heavy Top Plate
Dimensions: 24" long, 24" wide, 38 5/8". Feed Table Height 34 5/8"
Shipping Weight: Approximately 185 pounds
Contact us about this sheet metal powered flanger made by Flagler.
Return to the HVAC/ROOFING/SIGNS Page
Go to the Button Punch Flanger Page
Return to the Home Page