Clinching/Fastening Systems

Norlock ClinchlokThe SURELOK II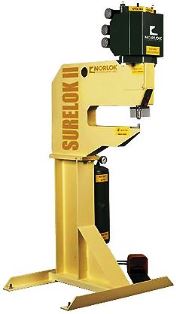 With its versatile design and unsurpassed features the Norlok Surelok II series of machines outperform the competition like no other. Solid and reliable, the Surelok II clinching machine will fasten sheet metal material from as thick as 14 gauge to as thin as 32 gauge with our proven clinching technology.
Superior features of the Norlok Surelok II Clinching Machine include :
Rigid steel frame less deflection for longer tool life
Close tooling access get in close for more applications
Fast cycle times for more production
18" or 25" throats greater reach for larger parts
"Intelligent" safety stroke for greater operator safety
Direct acting power stroke for more reliable joints
Simple tool adjustments - little or no setup time
Adjustable stroke - Reduces pinch point and air consumption
Completely upgradeable - add what you need - when you need it
Small footprint - requires less floor space
Air powered - requires no electrical hookup
Norlok Fitting Machine SURELOK
The "Fitting type" Norlok SURELOK features a one-piece 11" throat, steel "C" frame bolted to a solid steel lower arm. This clinching machine is specifically designed to fasten two ply of material together, as used in the sheet metal fitting manufacturing industry.

Features of the Norlok Surelok Fitting Machine:
Rigid steel frame
Close tooling access
Fast cycle times
"Intelligent" safety stroke
Direct acting power stroke
Simple tool adjustments -Adjustable stroke
Completely upgradeable
Small footprint
Air powered
Affordable prices
Options of the Norlok Fitting Machine Surelok:
Production punch assembly
Modular tooling assembly
Automatic return
Advanced power Unit
Extended warranty
High speed control
Laser pointer
Norlok Watson Clinching/Fastening Machine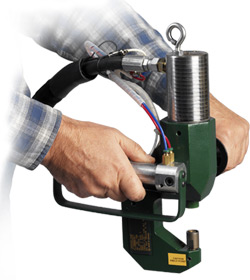 Performance in a small package Like the Surelok II the Norlok Watson (clincher-fastener) offers all the benefits of clinching, but in a lightweight version that gives you the portability you need. The Norlok Surelok II is compact clinching machine is easy to handle, requires only shop air to operate and can fasten up to 14 gauge material.

Features of the Norlok Surelok II (clinching/ fastening machine):
Lightweight
Safety Handle Operation
Easy Maintenance
Uses Shop Air
Fully Customizable
Options for the Surelok II clinching machine :
Norlok Letterlok 4000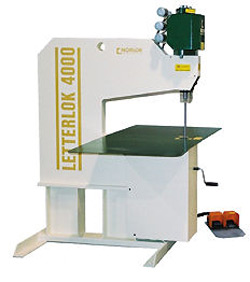 The Norlok LETTER LOK 4000 fastening machine is a 25" throat machine that has been designed for clinching channel letters. With the Norlok Letter Lok 4000's versatile design and unsurpassed features the LETTER LOK 4000 will reduce your channel letter fastening costs and outperform the competition.

Features of the Norlok Letter Lok 4000:
Faster cycle times
Greater capacity: 2" to 10" letters
Large Table
UL recognized tooling
Simple tooling adjustment
Air powered
Return to the Home Page